I read about The One Million Masterpiece project on Madalina Macovei's blog on Yahoo 360. She has submitted a drawing of her own that was featured in an OMM calendar.
The One Million Masterpiece is a project aimed at bringing together the drawings of one million people from all over the world in a huge online patchwork image. All the money resulted from this project are donated to charity, as the website states.
I really liked the image below, which is the work of a 16 year old highschool student from the US, called Quian Zhao. On his OMM profile you can see a Flash film that shows the creation of his drawing, step by step. Pretty impressive!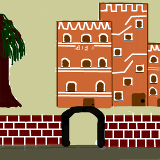 You can also visit Quian Zhao's profile by clicking on the link below. I'm thinking of contributing with my own drawing to this project - what about you?